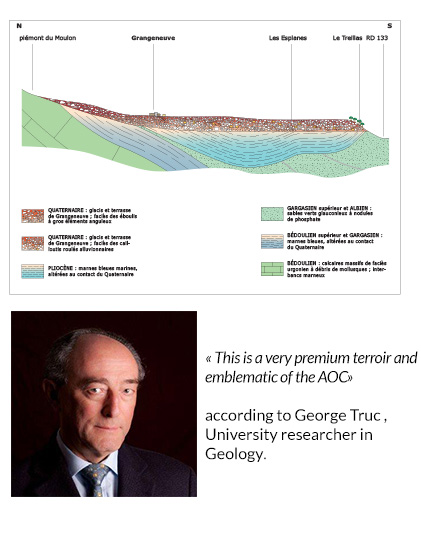 TERROIR AND VINEYARD

THE TERROIR
The Romans had already chosen this land! We have proof at the domain with remnants of a large Roman wine villa dating to the first century AD, the villa of Fayn. Chosen by the Romans and by the family BOUR, the terroir of Grangeneuve has proven to be a magnificent terroir for vines.
The estate is located on a clay limestone plateau 140 meters above sea level, whose technical name is "glacis of Grangeneuve".
This plateau is composed by both the decomposition of the limestone rocks of the Moulon massif and the alluvial deposits as well as river pebbles and stones of local tributaries of the Rhône.
The site is not particularly fertile but beautiful terroir for vineyards.

THE VINEYARD
The vines have been planted between 1964 and 1974.
We have undertaken an important restructuring of the vineyard in 1992. The average age of the vines is 35 years old. The yields are on the order of 40hl / ha.
Today, we at Grangeneuve, have the following varietals:
For the reds: 45% Syrah, 45% Grenache noir, 10% Cinsault.
For the whites: 60% Viognier and 40% Marsanne, Roussane and Grenache Blanc together.
The varietals of the Northern Rhone Appellations are very well represented at the domain with the Syrah, the Viognier, Marsanne and Roussane. Our terroir, located at the very North of the Southern Rhone Appellations (Rhone méridionale), allows us to cultivate these varietals with success, featuring a freshness and elegance alike.
This is the originality of Grangeneuve: a bridge between the north and the south of the Rhone Valley, with a terroir that allows for elegant, refined, harmonious, supple and expressive wines.